WYE – Wyesham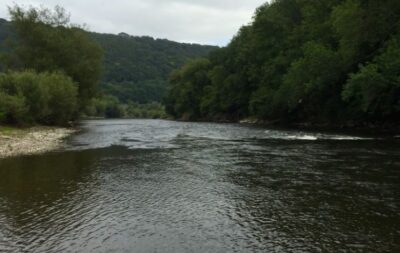 Location; Both sides of the river below the Monnow
Google: https://tinyurl.com/Wyesham-stretch
Owner Permit; Dukes estate
Availability; Day Tickets
Fish Species; Chub, Perch, Grayling, Salmon, Sea Trout, Brown Trout, Barbel, Gudgeon, Roach, Pike, Bleak, Dace
Additional information; Wyesham and the Duke's water is the first beat downstream of Monmouth just above Redbrook. (The Monmouth to Estuary section is where the majority of Wye salmon are caught). It comprises 2½ miles of prime double bank salmon fishing, on the border between England and Wales and it has good fly fishing throughout.
Set in the beautiful lower Wye Valley where the steep wooded banks begin to narrow forming the lower Wye gorge, this lower section of the river Wye below Monmouth benefits from being close to the tidal limit. Rotating beats with excellent fly fishing on all.
This section was used often in the old South Wales winter league matches, and 54lb of Dace won the event. Apart from the dace Chub and barbel now live in this area. Again a winter only stretch for coarse fish.
Coaching Available on most venues  email: clive@angling-news.co.uk
Website: https://fishing-coach.co.uk/
Links
River Wye Introduction Click Here