WYE – Thomas Wood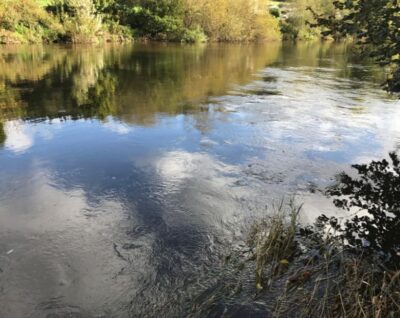 Location; Above Lower Lydbrook park
Post Code: GL17 9NW
Google: https://tinyurl.com/Courtfield
Owner Permit; Private Section
Availability; Day Tickets
Fish Species; Chub, Perch, Grayling, Salmon, Sea Trout, Brown Trout, Barbel, Gudgeon, Roach, Pike, Bleak, Dace
*Additional information:
Nestled in the heart of the Wye Valley on a private estate, this fishery is over a mile of right bank fishing down to the small confluence of the Bishopswood Brook. The fishery can be accessed with your vehicle, and you can drop your gear right to your swim.
The fishery features three styles of fishing landscape: meadow fishing, woodland fishing and wild fishing in this beautiful valley. This stretch of the River Wye is well known for its amazing barbel fishing. It is also home to some very large chub, trout and grayling and is world renowned for its magnificent salmon.
The location itself can only be described as stunning, with breathtaking views of the Wye Valley nestled in the Courtfield Estate, home to wild herds of fallow deer and circling buzzards. The sheer variety of landscape & fishing styles encompassed in this beat provides for every type of angler.
Thomas Wood Features:
• Vehicle Access
• Bankside Parking
• Coarse & Salmon Fishing
• Meadow, Woodland & Wild Fishing
Between 1st Nov and 14th March, exclusivity at this section of water is not guaranteed. There is a small membership that may fish from time to time – this membership has access to several other fisheries and is made up predominantly of locals who fish evenings and weekends.
Tickets are available between 1st Nov and 14th March
Rules and Regulations
National bye-laws must be observed and it is up to anglers to familiarise themselves with these.
Catch & release for all species
Dogs allowed but must be kept under control at all times
Coarse Fishing Regulations
No Pike fishing permitted
An online catch return MUST be completed after Game fishing
Publicity on social media, forums and magazines by prior approval only
(Please Note: This information was taken from Wye & Usk Passport, and Angling Dreams websites)
Coaching Available on most venues  email: clive@angling-news.co.uk
Website: https://fishing-coach.co.uk/
Links
River Wye Introduction Click Here