WYE – Wyastone Leys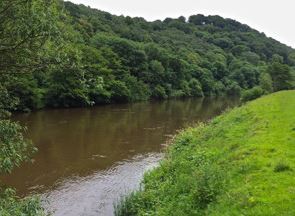 Location; just above Monmouth Boathouse English Side
Post Code: NP25 3QG
Google: https://tinyurl.com/Waystone-leys
Owner Permit; Wyastone A/C
Availability; Day Tickets
Fish Species; Chub, Perch, Grayling, Salmon, Sea Trout, Brown Trout, Barbel, Gudgeon, Roach, Pike, Bleak, Dace
*Additional information:
Just over a mile of right bank fishing just upstream of Monmouth. Opposite the Glamorgan Anglers stretch. This is a lovely fishery with stunning views reaching up to the Forest of Dean. Access varies from tree lined to open fields, and the fishing has been excellent here over the years.
The expansive, weedy runs are home to all species of Wye fish, especially chub which hide amongst the ranunculus and under the overhanging willows. When the weed has died back in autumn, trotting sport should prove spectacular – with large catches of dace and roach achievable with the right baiting approach. Barbel numbers are exceptional, with several double figure fish caught in the last few seasons.
Between 1st Nov and 14th March, exclusivity at this stretch is not guaranteed. There is a small membership that may fish from time to time – this membership has access to several other fisheries and is made up predominantly of locals who fish evenings and weekends.
Rules and Regulations
National bye-laws must be observed and it is up to anglers to familiarise themselves with these.
Coarse Fishing Regulations
Catch & release for all species
No Dogs Allowed
No Pike fishing permitted
*(Please Note: This information was taken from Wye & Usk Passport, and Angling Dreams websites)
Coaching Available on most venues  email: clive@angling-news.co.uk
Website: https://fishing-coach.co.uk/
Links
River Wye Introduction Click Here