RIVER USK – SENNYBRIDGE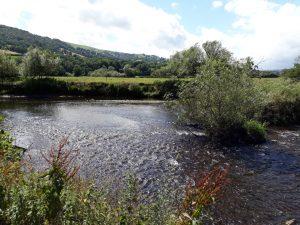 Location; Situated in Pantysgallog House Sennybridge
Google: http://goo.gl/maps/VG8em
Sat Nav LD3 8PT
Owner Permit; Pantysgallog Health Farm
Availability; Day and Season tickets
Tel; 01874 636993
Website: https://www.fishingpassport.co.uk/fishing/usk/cefn-rhosan-fawr
Fish Species; Brown trout, Salmon, Sea trout
Additional information; 2 miles of salmon and trout river fishing in the grounds in association with the Wye & Usk Foundation, see website
The Cefn Rhosan Fawr beat at Sennybridge provides some fantastic upper Usk fishing. Here you find the quality brown trout that the river is famous for in addition to the occasional sea trout and late season salmon. April, May and June are the most productive months for trout. Any rain at the height of summer, however, can lead to a few days of frenetic sport. Dropping temperatures in September along with increased chances of a salmon in early October make late season a good time to try.
The river at Sennybridge is medium sized with a variety of different features. The lower sections of the beat are more open, the upstream more shaded. In addition to the main river, this beat also offers some small stream fishing in two tributaries that enter the Usk here – the Senni and Cilieni. Parking is less than 250m to the river.
Please note that the owner reserves the right to fish an extra rod (additional to day tickets) every day.
Half price evening tickets can be purchased after 1pm on the day of fishing. Fishing is allowed from 5pm.
Block Booking is available on this beat. You can book all the tickets available (You can only fish up to the maximum daily number of people allowed for that type of fishing.
Rules and Regulations
National bye-laws must be observed and it is up to anglers to familiarize themselves with these.
Fly Fishing only for Trout
No Dogs Allowed
2 trout can be taken per rod.
Catch & Release for salmon at all times
Coaching Available email: clive@angling-news.co.uk  Website: https://fishing-coach.co.uk/
Links
River Wye Introduction Click Here