RIVER USK – CLYTHA FISHERY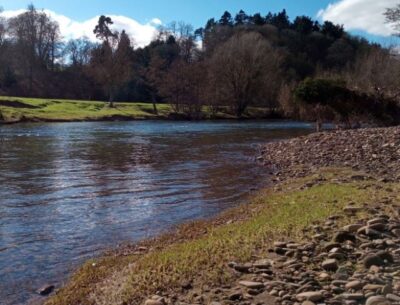 Location; Situated between Abergavenny and Usk
Google: http://goo.gl/maps/BSSNH
Owner Permit; Clytha Fishery
Availability; 3/4 miles left bank 1/2 mile right bank Day or weekly tickets
Tel; 01495 762921 / 01291 672552
Fish Species; Brown Trout, Rainbow trout, Salmon, Roach, Dace, Chub
Website; https://www.fishingpassport.co.uk/fishing/usk/old-clytha
Additional information;
At just over 470 yards (400m), Old Clytha is an attractive section of left bank fishing suited to a few hours trout/salmon fishing. The croy pool is a noted salmon catch and lovely fly water, whilst the rest of the beat is perfectly suited to trout fishing.
You can fish the whole of Croy from the bank, but the section above is a long shallow-ish glide suited to wading up the middle of the river picking off rising trout.
Right at the top of the beat there is a deeper pool that holds some big trout but is only fishable for salmon with a spinner.
Parking is around 300m from the river.
Rules and Regulations
National bye-laws must be observed and it is up to anglers to familiarise themselves with these.
Fly Fishing only for Trout
Flyfishing and spinning (when byelaws allow) for salmon only. No bait fishing.
2 Trout bag limit. All Trout over 2lb to be returned
Catch & Release for salmon at all times
Dogs allowed but must be kept under control at all times
Coaching Available email: clive@angling-news.co.uk  Website: https://fishing-coach.co.uk/
Links
River Wye Introduction Click Here