RIVER USK – CHAIN BRIDGE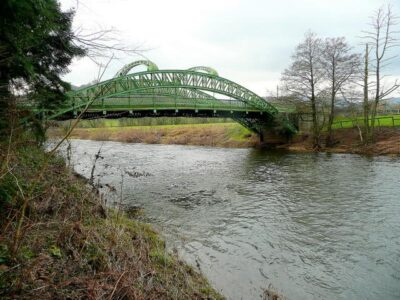 Location; Situated below Chain Bridge
Google: http://goo.gl/maps/xaCus
Sat Nav: NP15 1PP
Owner Permit; Gary Evans
Availability; Day tickets from Fishing Passport Company
Tel; 02920 619828
Fish Species; Brown Trout, Rainbow trout, Salmon, Roach, Dace, Chub
Webste: https://www.fishingpassport.co.uk/fishing/usk/chainbridge
Additional information;
In addition to day tickets, season rods are available here. A pool of rods is able to access the beats on almost any day of their choice using the Fishing Passports self-booking system.
Just over 1km of mostly right bank (0.5km of double bank) mid/lower river Usk salmon and trout fishing, a few miles upstream of Usk town. This is a rare chance to fish a very exclusive part of the river on a day ticket. The beat has 6 named pools with the Rock Pool probably being the best of the salmon lies. The Upper Rocks and Wood Stream are also productive pools with the Bridge Stream and the Cables being worth a cast with a fly in higher water. All the pools fish well with a spinner (please note that at the request of the owner, the beat is fly only until June 16th).
The wild brown trout fishing in this part of the Usk is excellent, with good numbers and average size. Chainbridge offers good opportunities for trout anglers throughout its length.
Access to the fishery is excellent with a private car park next to the water, although some sections are a short walk (350m – 500m). The wading is of mixed difficulty – a large part of the fishery has a gravel river bed but there are sections of bedrock and stones that are a little more difficult underfoot.
Half price evening tickets can be purchased after 1pm on the day of fishing. Fishing is allowed from 5pm.
Please note that by booking this beat you agree to WUF passing your name and contact details to the fishery owner who may get in touch with updates on fishery/river conditions. If you do not wish your details to be passed on, please contact us on 01874 712074.
Coarse fishing available on this section