RIVER USK – Aberbaiden beat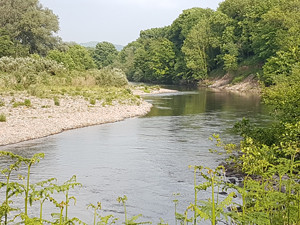 Location; 4 miles above Abergavenny
Google: https://tinyurl.com/Aberbaiden-beat
Owner Permit; Gwent A/C
Availability; 1,200 yards (just under ¾ mile) of right bank.
Fish Species; Brown trout, Salmon, Sea trout, Grayling, Dace
Website; https://www.fishingpassport.co.uk/fishing/usk/aberbaiden
Additional information; The Aberbaiden beat is 1,200 yards (just under ¾ mile) of right bank middle Usk fishing, a few miles upstream of Abergavenny. It offers salmon fishing opportunities in high/medium flows and is in a part of the Usk that is renowned especially for its wild brown trout fishing.
The Usk here flows over gravel and shale, so wading is easy underfoot, although deep in places. The Top Pool is rated the best of the fishing for both salmon and trout. A wading staff is also recommended. Access is quite steep in some places, with overhanging trees.
There is quite a long walk from the parking area to the riverbank (505m/552 yards) and day ticket anglers are asked to note that the opposite bank is fished by Merthyr Angling Association, so there may be others fishing the water. Also, 2 rods are retained by the house, so exclusivity cannot be guaranteed. However, these rods are rarely fished.
Half price evening tickets can be purchased after 1pm on the day of fishing. Fishing is allowed from 5pm.
Rules and Regulations