WYE –   Llyswen (The Rectory Fishery)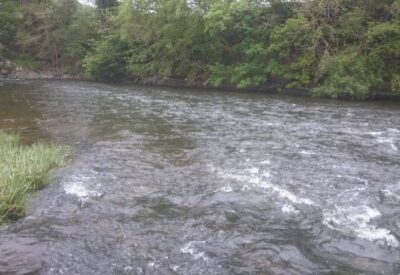 Location; A470 at Llyswen towards Builth Wells
Post Code: LD2 3EZ
Google:  https://tinyurl.com/Llyswen
Owner Permit; The Old Vicarage
Availability; Day Tickets
Fish Species; Salmon, trout, grayling, Chub, Dace,
Additional information;
Approx. 1½ miles of right and 1 mile of left bank main river salmon, trout, grayling and coarse fishing some 6 miles upstream of Hay on Wye. The Rectory is one of the premier upper Wye beats with a procession of diverse features to attract all types of angler. For salmon anglers, the beat is amongst the most productive in this part of the river and with 13 named catches, fish are caught at a wide range of flows. In-depth salmon fishing details are provided separately in the form of pool notes once a booking has been made.
For trout and grayling anglers there are some lovely dry fly flats, lots of pocket water and plenty of runs more suited to the wet fly. The Bridge Flats or Gravel Catch on a summer's evening can offer superb dry fly-fishing. The beat also holds good numbers of grayling and remains open throughout the winter for those that like to trot maggots for this species.
Wading difficulty at the Rectory is mixed, with some easy areas such as the Gravel Catch and Bridge Flats. The rockier sections are more difficult to negotiate, especially the lower half of the beat, meaning studded soles are a must.
The Coarse fish population on the upper Wye are thinly spread with odd pockets of fish including the odd barbel. Mainly winter fishing from November until March14th
There are two parking spots, both close to the river's edge.
A season rod syndicate also operates on this beat, so exclusivity is not guaranteed. However, there should never normally be more than 3 anglers on the water at any one time.
Accommodation local to this beat:
The Old Vicarage B & B, Erwood