WYE – Home Fishery (Court Field)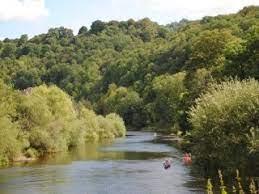 Location; B4234 near wayside Park
Post Code: HR9 5QX
Google: https://tinyurl.com/Home-Fishery
Owner Permit; Lower Home fishery
Availability: Day Tickets Winter Only for coarse fishing November 1st to 14th March
Fish Species; Chub, Perch, Grayling, Salmon, Sea Trout, Brown Trout, Barbel, Gudgeon, Roach, Pike, Bleak, Dace
*Additional information; Approximately ¾ mile of right bank fishing. Whatever species you fish for you are in with a chance of a specimen and the Courtfield waters are famed for specimen fish. There are several hundred yards of fantastic coarse and game fishing, with superb salmon catches, all within easy 100 yard or so walks from the car parking.
Legg Meadow, Legg Meadow Crib, Wood Crib follow downstream all providing superb fishing in the cream of the renowned Courtfield waters. Next comes Waterscross Pool a big fish holding area for salmon and barbel, followed by Boat Pool, Willow Run, Ferry Pool and the Island Pool all tried and tested barbel catches producing specimen clean fish.
With new vehicle access for the first time ever anglers can now fish this superb bottom end fishing within 150 yards of parking or drop off tackle and companions along the way, although please note the hill is steep so care is needed. (There are pictures on the beats gallery to assist with access). The Home beat lies in beautiful parkland surroundings below the mansion of Courtfield where King Henry V lived as a boy.
Between 1st Nov and 14th March, exclusivity at this beat is not guaranteed. There is a small membership that may fish from time to time – this membership has access to several other fisheries and is made up predominantly of locals who fish evenings and weekends.
(*Please Note: This information was taken from Wye & Usk Passport, and Angling Dreams websites)
Coaching Available on most venues  email: clive@angling-news.co.uk
Website: https://fishing-coach.co.uk/
Links
River Wye Introduction Click Here